Small Business Solutions
Picking a hosting & email solution should not be hard, but it is.   We try to make it easier by understanding what it is you do, what you plan to do, and how you want to do it.   This way, we can design, build, and maintain the right solution for your business.
Why choose rackAID's small business solutions?
Extremely helpful, knowledgeable, able to achieve results fast and reliably.
How we work with you.
Our clients are our partners.   When you grow, we grow.   Some of our clients have been with us since 2006.  Why?   They trust us to be on their team.
Free Guide: How to Identify Application Performance Bottlenecks
Learn how to identify web application performance issues with this free guide.  We detail the process we use to keep our client's applications, operating as fast as possible.   Identifying the right bottleneck is key to unleashing the real speed of your application.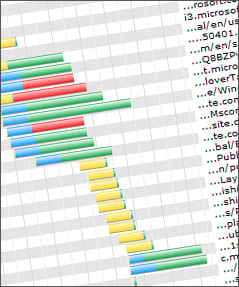 Small Business Solution Pricing
Just some examples. Contact us to discuss your solution.

Web Hosting

____

AWS Powered Hosting

Free SSL

Daily Backups

Full Server Management

Web Application Firewall

Cloudflare CDN

24/7 Support

Email Solutions

____

Best-Fit Email Service

Spam Filtering

Antivirus Filtering

Full System Support

Email Security Services

Free SSL

24/7 Support

Virtual IT Manager

____

Dedicated IT Contact

IT Strategy & Advice

Plan for Growth

IT Procurement

Vendor Coordination

Regular Operation Reviews

24/7 Support
Best Fit Hosting

We help identify the right platform, control panel, and solution to meet your business goals.

Email Solutions

Email is simple but challenging.   We can help you identify the right email solutions to provide better inbox delivery and keep your IP out of blacklist.

Backup Strategy

Backups and recovery can be challenging, so we help you understand the benefits and drawbacks of different approaches.   You can then pick the best strategy that fits your needs and budget.

Security Services

Optional security audits provide ongoing monitoring of your hosting operations.   We offer server and application audits using a variety of security tools.

24/7 Support

We provide 24/7 support with a guaranteed one hour response time for critical, service impacting events.   We back this with a 100% money-back Service Level Agreement.
Cost Optimization

cPanel-powered servers can host many sites cheaply, but that may not be best for your customers.  We can help you compare different hosting strategies and their per-unit costs.

Migration Strategies

We provide migration assistance with all of our plans.  We have migrated 1000's of web sites.   Our team designs a migration plan that reduces issues and downtime.

Performance Optimization

We handle server-side performance issues and help your developers identify slow code.   With ongoing audits, we continual improve site speed and reliablity.

Developer Assistance

Just have your developers let us know what tools they need.  From DevOps automation to simple test servers, we can manage it for you.

Vendor Management

If we cannot provide it directly, we can help integrate and manage another IT vendor into your solution.
We run a property management company for vacation rentals. We process 35,000 reservations per year as well as cleaning and maintenance for all of our stays. Over the last ten years, rackAID has been there with us through all of our growth, changes, and issues.  We rarely have issues, and when we do, they immediately respond with great advice and solutions — no matter the time of day. We highly recommend rackAID for managing your hosting infrastructure.
Using Linux Screen
We use Screen daily.   What is Screen?  It is a Linux command-line tool designed to provide multiple screens within one SSH session.   Best of all, the system allows you to disconnect and reconnect to the same screen session.
Learn more about small business hosting solutions.