Why choose rackAID's Backup Management service?
Extremely helpful, knowledgeable, able to achieve results fast and reliably.
How we work with you.
Our clients are our partners.   When you grow, we grow.   Some of our clients have been with us since 2006.  Why?   They trust us to be on their team.
Free Guide: How to Identify Application Performance Bottlenecks
Learn how to identify web application performance issues with this free guide.  We detail the process we use to keep our client's applications, operating as fast as possible.   Identifying the right bottleneck is key to unleashing the real speed of your application.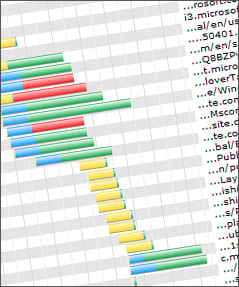 Backup Management Services
Contact us to discuss your solution.
Backup strategies and pricing vary considerably.  Factors such as your data size, backup frequency, and recovery point objectives impact backup technology choice and price.  Simple server solutions start from $50/mo, but please contact us to discuss your solution.
24/7 Support

Our 24/7 support assures we are here when you need us. We guarantee a one-hour response time for critical, service impacting events and back this with a 100% money-back Service Level Agreement.

Data Security

Just like your primary assets, you need to keep your backups safe.   We can help you decide if you need to encrypt your backup data and scan your backup solution for security issues.

Recovery Testing

What good are backups if you cannot depend on them for recovery?   We include recovery testing with all backup management plans.   From full recovery to simple data restores, we can test your backup solution to assure it is ready when you need it.

24/7 Monitoring

We monitor your endpoints and backup services to assure your data is safe.    We monitor backup capacity, retention schedules, and performance to make sure your backups are working correctly.
10 Minute Response Times

Our typical response time to a service impacting issue or critical ticket is 10′ minutes.  We provide a 1 hour response time guarantee.  We triage your recovery request and determine the fastest way to restore operations.

Configuration Management

We configure your backup solution to meet your specifications.   The configuration includes both the backup software and your endpoints.

Troubleshooting

Sometimes backups systems or restores fail.  When they do, our team is here to diagnose and fix the issue.   From simple network issues to complex software problems, we help you get your data back.

Full Recovery

Human error is the number one cause of data loss.   In case of a full recovery due to error or security issues, we are here to help.   We work with you until your operations are running smoothly again.
Extremely helpful, knowledgeable, able to achieve results fast and reliably.
Using Linux Screen
We use Screen daily.   What is Screen?  It is a Linux command-line tool designed to provide multiple screens within one SSH session.   Best of all, the system allows you to disconnect and reconnect to the same screen session.
Learn more about backup and disaster recovery.