Web Agency Hosting
Get your hosting gurus — gurus that care about your business.   At rackAID, your not just another hosting account on the server.   We take the time to understand how you operate so we can match your hosting to your needs and those of your clients.  We tackle the daily server administration tasks, fix outages, and security issues so that you can focus on delivering exceptional websites.
Why choose our Web Agency Hosting Solution?
Extremely helpful, knowledgeable, able to achieve results fast and reliably.
How we work with you.
Our clients are our partners.   When you grow, we grow.   Some of our clients have been with us since 2006.  Why?   They trust us to be on their team.
Free Guide: How to Identify Application Performance Bottlenecks
Learn how to identify web application performance issues with this free guide.  We detail the process we use to keep our client's applications, operating as fast as possible.   Identifying the right bottleneck is key to unleashing the real speed of your application.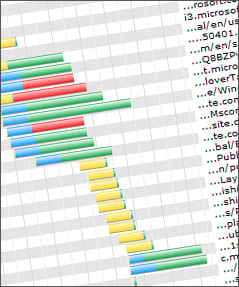 Web Agency Hosting Pricing
Just some examples. Contact us to discuss your solution.

cPanel Solution

____

Cloud Powered Hosting

Free SSL Certificates

Daily Backups

Full Server Management

Web Application Firewall

Spam Filtering Services

24/7 Support

Cloud Solutions

____

One Client per Instance

Free SSL Certificates

Daily Backups

Full Server Management

Web Application Firewall

Performance Management

24/7 Support

DevOps Management

____

Dedicated IT Contact

DevOps Strategy & Advice

DevOps System Integration

Endpoint Management

Backup Strategy

Regular Operation Reviews

24/7 Support
Best Fit Hosting

cPanel, Plesk, Dedicated, VPS, Cloud; there are many hosting choices. Our team helps you find the right solution to fit your budget and goals.

Security Audits

Optional security audits provide ongoing monitoring of your hosting operations.   We offer server and application-level reviews using a variety of security tools.

Backup Strategy

Depending on your hosting platform, there are different backup options.   We can help you find the right one for your workflow and business needs.

Application Security

Web application firewalls can help block malicious traffic to your sites.  Be it CloudFlare, ModSecurity, or Sucuri; we can help find the right solution for you.

Performance Diagnostics

We handle server-side performance issues so your devs can focus on front-end problems.   If you ever suspect a server issue, just let us know, and we investigate.

24/7 Monitoring

24/7 monitoring of over a dozen server and site health metrics means we can quickly spot and resolve issues.
Migration Strategies

We provide migration assistance with all of our plans.  We have migrated 1000's of web sites.   Our team provides you with a migration plan that reduces issues and downtime.

Cost Optimization

While cPanel-powered servers can host many sites cheaply, they may not be best for your customers.  We can help you compare different hosting strategies and their per-unit costs.

Email Solutions

If your customers demand email, we can help.  Finding the right email solution can significant reduce support requests from your customers.

Configuration Management

We help identify the fastest hosting stack compatible with your application.   Apache or Nginx?  MariaDB or MySQL?  Our team can help you find the best stack for your customers.

Developer Friendly

SSH access, Gig, BitBucket, WP-CLI, and more assure your development team has the tools they need to get the job done.

24/7 Support

We provide 24/7 support with a guaranteed one hour response time for critical, service impacting events.   We back this with a 100% money-back Service Level Agreement.
Since I've switched I no longer have to worry about hosting. My site is reliable, secure and fast. I know my site is in good hands — allowing me to focus on our users.
Using Linux Screen
We use Screen daily.   What is Screen?  It is a Linux command-line tool designed to provide multiple screens within one SSH session.   Best of all, the system allows you to disconnect and reconnect to the same screen session.
Learn more about how your web agency can benefit from managed IT services: