Managed WordPress Hosting
We make WordPress hosting easier by managing your site's performance, security, and hosting.   If you have 10,000 visitors or 10 million, we build a stable, secure WordPress solution that works with your preferred theme and plugins.
Why choose managed WordPress hosting?
Extremely helpful, knowledgeable, able to achieve results fast and reliably.
How we work with you.
Our clients are our partners.   When you grow, we grow.   Some of our clients have been with us since 2006.  Why?   They trust us to be on their team.
Free Guide: How to Identify Application Performance Bottlenecks
Learn how to identify web application performance issues with this free guide.  We detail the process we use to keep our client's applications, operating as fast as possible.   Identifying the right bottleneck is key to unleashing the real speed of your application.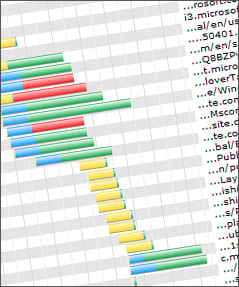 Managed WordPress Hosting Pricing
Just some examples. Contact us discuss your solution.

WordPress Basic

____

AWS Powered Hosting

Daily Backups

Full Server Management

Web Application Firewall

Cloudflare CDN

Performance Diagnostics

24/7 Support

WordPress Complete

____

Auto-Scaled AWS Hosting

Daily Backups

Full Server Management

Web Application Firewall

Cloudflare CDN Pro

Performance Diagnostics

24/7 Support

WordPress Update Assistance

Optional Test Server
Our pricing is all-inclusive.   Only under exceptional circumstances or service changes will you incur additional costs.   This allows you to budget confidently for your IT services.   All of our staff have 6+ years industry experience with more than 99% of issues resolved in one ticket.  We are not your one-size-fits-all service provider.  Contact us to get pricing for your solution.
Scalable Hosting

We use Amazon's Web Services to power all managed WordPress hosting plans.   We can quickly scale the instances up and down as needed to meet your traffic demands and performance goals.

Automated Backups

We doubly protect your backups with both WordPress and server-level backups. Quickly restore backups when you need them.

WordPress Security Audits

We run daily, automated security audits against your site.  This helps us identify potential exploits before hackers do.

Web Application Firewall

The web application firewall blocks malicious traffic, bots, and suspect IPs before they even reach your server.

Developer Friendly

SSH access, Gig, BitBucket, WP-CLI, and more assure your development team has the tools they need to get the job done.

24/7 Monitoring

24/7 monitoring of over a dozen server and site health metrics means we can quickly spot and resolve issues.
Free Migration

We provide free migration for your site, including backup, transfer, and testing.  When ready, let us know, and we activate your new WordPress hosting.

Optimized Server Stack

We use Nginx with PHP-FPM.  A proven solution to speed up WordPress while reducing resource needs.   We then add MariaDB (MySQL replacement) and Redis Object caching for maximal performance.

Dedicated Resources

We host each WordPress site within a dedicated cloud instance: no shared databases or other resources with other sites.

Performance Diagnostics

Is your site slow?  Just ask our team for a performance audit.   We can pinpoint the bottlenecks to make your site as fast as it can be.

Free CDN

For better performance, we delivery all sites via a global CDN network with optimized edge caching.

24/7 Support

We provide 24/7 support with a guaranteed one hour response time for critical, service impacting events.   We back this with a 100% money-back Service Level Agreement.
Since I've switched I no longer have to worry about hosting. My site is reliable, secure and fast. I know my site is in good hands — allowing me to focus on our users.
Using Linux Screen
We use Screen daily.   What is Screen?  It is a Linux command-line tool designed to provide multiple screens within one SSH session.   Best of all, the system allows you to disconnect and reconnect to the same screen session.
Learn more about managed WordPress Hosting