Business Application Hosting
Let rackAID take the hassle out of running your business applications. Specializing in PHP/MySQL-powered applications, we can help you with your custom web applications.   From single servers to load-balanced, scalable clusters, we can help you optimize your online applications for maximum security, reliability, and performance.
Why choose rackAID's business application hosting?
Extremely helpful, knowledgeable, able to achieve results fast and reliably.
How we work with you.
Our clients are our partners.   When you grow, we grow.   Some of our clients have been with us since 2006.  Why?   They trust us to be on their team.
Free Guide: How to Identify Application Performance Bottlenecks
Learn how to identify web application performance issues with this free guide.  We detail the process we use to keep our client's applications, operating as fast as possible.   Identifying the right bottleneck is key to unleashing the real speed of your application.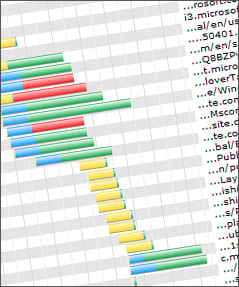 Business Application Hosting Pricing
Just some examples. Contact us for your solution.

Simple Application

____

AWS Powered Hosting

Daily Backups

Full Server Management

Web Application Firewall

Cloudflare CDN

24/7 Support

Busy Application

____

$

299

/mo

Uses our simple cloud platform where your database and web server uses the same hosting node.

Scalable AWS Hosting

Daily Backups

Full Server Management

Performance Management

Web APP Firewall & Cloudflare Pro

24/7 Support

High Availability

____

Fault-Tolerant AWS Hosting

Daily Backups

Full Server Management

Performance Monitoring

Web APP Firewall & Cloudflare Pro

24/7 Support
Optimized Hosting

We select the right hosting architecture for your needs and budget.  We work popular hosting solutions such as Apache, Nginx, MongoDB, MySQL, MariaDB, Redis, and more.

Dedicated Resources

Your application runs on its own dedicated or cloud server.   Dedicated resources eliminate problems caused by shared hosting solutions and inferior VPS servers.

DevOps Tools

SSH access, Git, BitBucket, NPM,  and more assure your development team has the tools they need to get the job done.

Free CDN

For better performance, we delivery all sites via a global CDN network with optimized edge caching.

24/7 Monitoring

24/7 monitoring of over a dozen server and site health metrics means we can quickly spot and resolve issues.

24/7 Support

We provide 24/7 support with a guaranteed one hour response time for critical, service impacting events.   We back this with a 100% money-back Service Level Agreement.
Free Migration

We provide free migration for your site.  We will backup, transfer, and deploy your site for testing.   When ready, you just let us know when to make the site live.

Application Security Scanning

Application security scanning can identify potential threats before disaster strikes.  When we find issues, we work with you to fix or mitigate the problems.

Web Application Firewall

We use a web application firewall (OWASP) to mitigate the most common and risky application exploits.   The firewall blocks these attacks before they reach your application.

Configuration Management

We help identify the fastest hosting stack compatible with your application.   Apache or Nginx?  MariaDB or MySQL?  Our team can help you find the fastest stack for your application.

Backup & Recovery Management

We back up the server daily, but our team works with yours to determine the best application backup and recovery strategy.

Performance Diagnostics

Is your site slow?  Just ask our team for a performance audit.   We can pinpoint the bottlenecks, allowing you to fix performance issues quickly.
rackAID keeps our gamers happy by assuring our servers are fast, secure and reliable. With their help, we focus on publishing great games.
Learn more about running business applications